 Our Paragliding Tour Packages are specially crafted to give you an exhilarating experience of a lifetime. our packages our sure to awake the dormant explorer in you. Paragliding fly guaranteed to transport you to a place where you can galvanize accumulated stress of mundane busy life to an exhilarated de-stressing experience. We have a team of trained professionals who will supervise the activities and are deployed at your service; to take you through a magical world of adrenaline filled extreme sports.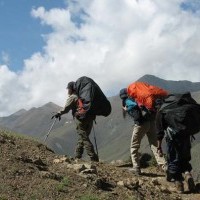 At Aj World Vacations Pvt Ltd, we are organizing amazing trekking tours for the tourists. Trekking is an adventurous activity that includes walking on a hill or anywhere away from the city for several days without stopping for a long time in between. Tourists can avail our services to go on an amazing trek with their friends or loved ones. Has camping been on the top of your to-do once in a lifetime list? If yes, then you should definitely avail services from Aj World Vacations Pvt Ltd for having an adventurous camping activity with your friends. A tent and other essentials are arranged along with an apt place for a camping activity. So, enjoy sleeping amidst the sounds of animals and birds by getting a camping trip organized from us.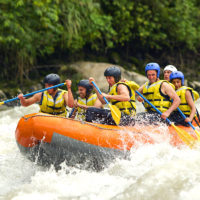 River rafting is another name of the white water rafting. It is a recreation activity that is conducted outdoors with the help of an inflatable raft. Usually, tourists or adventurists search for the whitewater or any other rough water for this activity. If you want a thrilling river rafting activity with your friends, then contact Aj World Vacations Pvt Ltd anytime. Zip Lining is a recreational activity undertaken with family members or friends. A pulley is suspended on a stainless steel cable that is escalated on a hill. The activity should be undertaken under the supervision of the trained professionals. Thus, contact Aj World Vacations Pvt Ltd for getting amazing zip lining adventure with your loved ones.